Baptisms, beaches and brains
After some youth leader training in Battersea, we headed down to Sussex at the weekend.
On Sunday we were privileged to watch one of our mates get baptised:
Nice one Greame!
We then got to wander along the beach at Winchelsea: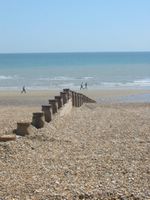 In the evening we ventured to the quiz at another pub (Hogs Head) in Ealing, where we spotted a few refugees from our previous venue (including Richard Bacon). Anyway despite the vibe in the pub not really being great and our team being down in numbers we managed to win the quiz! I told myself 3 times this morning "I'm a winner". Feels good...